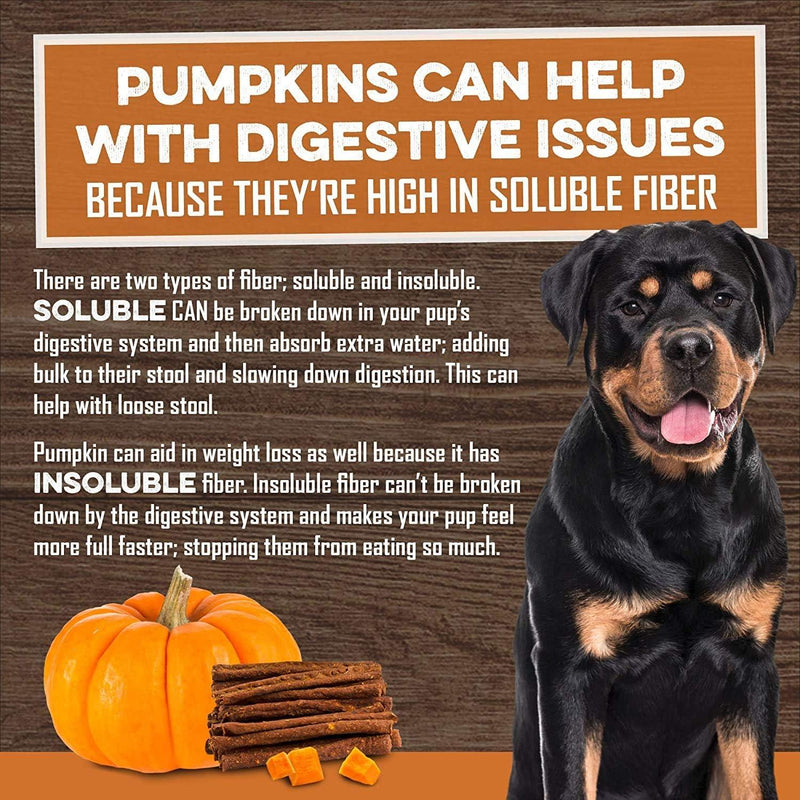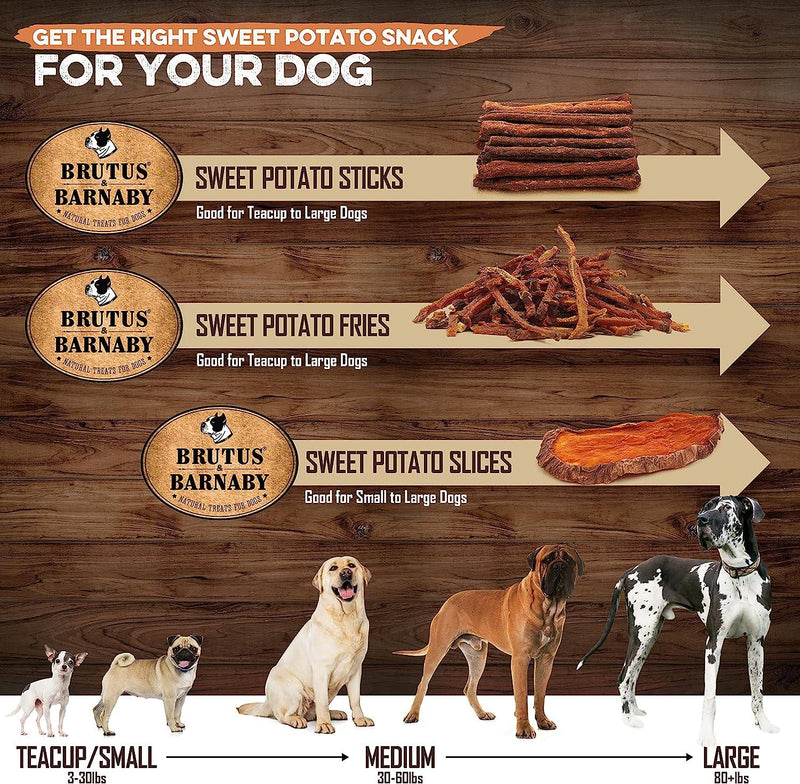 Sweet Potato Sticks - Pumpkin and Cinnamon Sweet Potato Dog Treats
You save:

$-19.98 USD

(100%)
MONEY-BACK GUARANTEE
NATURAL HEALTH BENEFITS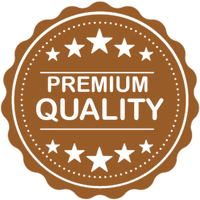 ONLY QUALITY INGREDIENTS
Product Description
Description

Ingredients

Feeding Instructions
Description
Sweet Potato Sticks with Pumpkin and Cinnamon are great tasting, amazing treats for the digestive system. Cinnamon is a natural antioxidant and is great for the stomach.
GREAT FOR EVERY DOG - Crunchy and delicious, pieces of any size can be snapped off and given as dog training treats, or give the whole stick!
MONEY BACK GUARANTEE - We stand by all our products, and if you or your dog is not satisfied, we will give you your money back, no questions asked. If you're not satisfied, reach out to us and we will remedy it.
POWERFUL ANTIOXIDANT - Cinnamon is a powerful natural antioxidant and an anti-inflammatory for dogs, which can help with hip and joint inflammation and can work in tandem with other dog vitamins and supplements.
NATURAL DIARRHEA TREATMENT - Pumpkin contains high amounts of fiber and is a natural diarrhea treatment for dogs.
MADE FROM OUR SAME GREAT SWEET POTATOES - Our Crunchy Sweet Potato Sticks are made from the same great sweet potatoes as our best-selling sweet potato slices.
GRAIN FREE, VEGAN, AND VERY HEALTHY FOR DOGS - These sticks have just Sweet Potato and Pumpkin and Cinnamon, no meat products. They're grain-free and very healthy for dogs. You can know you are giving a great-tasting, healthy snack to your dog that is bursting with health benefits!
Ingredients
Sweet potato, pumpkin, cinnamon. Nothing else.
Instructions
Give one as a treat for your dog to enjoy. We recommend supervising when giving your dog this treat, and provide plenty of fresh water. Watch out for small pieces that could be a choking hazard for your dog. Can break off smaller pieces to give more manageable bites or for smaller dogs. While all our products are carefully selected for the highest quality and safety, please consider your dog's health, age, diet, and chew strength before giving a new treat. Our treats & chews should never replace your dog's diet.
Best Treat!
My dogs absolutely love these. My oldest stands in front of the pantry and pokes at the bag.
Great treat
Our pups love these! One of our rescues is allergic to protein so we have to watch everything he eats, so far he is doing great on these sticks. These & the sweet potato slices have saved the days!!
Delicious
My dog and now my neighbors dogs love these and all of your products!
Pippa's Favorite Treat
My dog's favorite treat is the "Sweet Potato Sticks", with pumpkin and cinnamon, so it is my favorite to buy for her. I like them because she is a small dog and I can break them into them and only give her part of a stick, and know she is still getting the advantage of an all-natural product. I think the sticks are the most nutritious treat I can give to my dog, so I will continue to purchase them and recommend Brutas & Barnaby products to my family and friends. Thank you.
Best Treat 100% all natural & nutritious!
When the package arrived my dog KNEW it was for him. I was out and waiting for delivery. My dog was so excited to get his hand delivered treat from The farm in Florida. So very tasty and I must admit I have tried before I gave it to my dog and can totally understand why he loves them! So delicious and nutritious. Brutus and Barnaby is one of my very best 100% natural USA made items I order for my family. Thank you for caring and taking pride in putting out products i spread the word and several of my friends are ordering from them also. So….You all need to get on this yummy train!