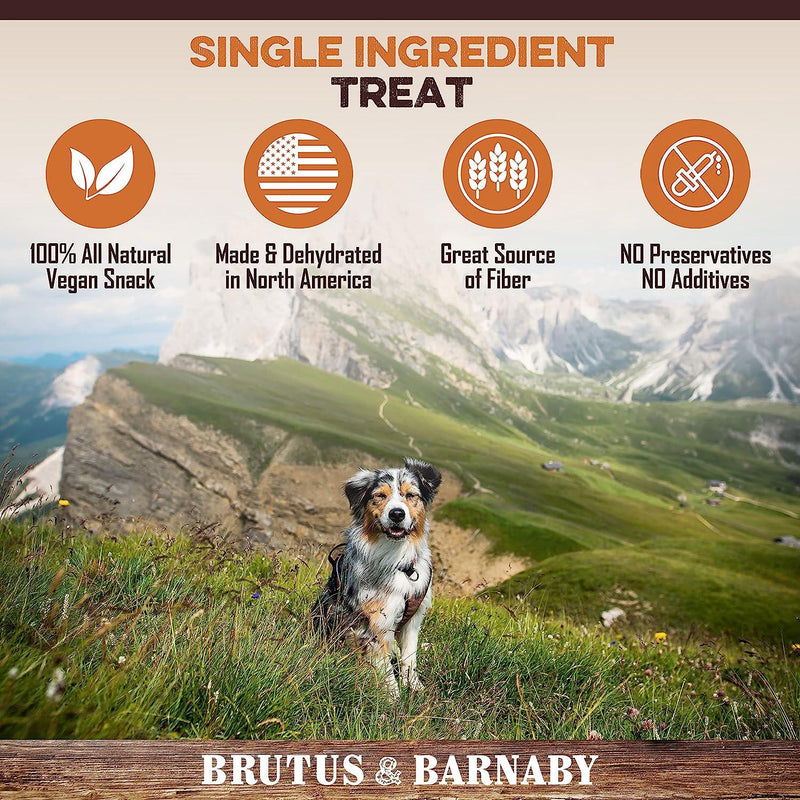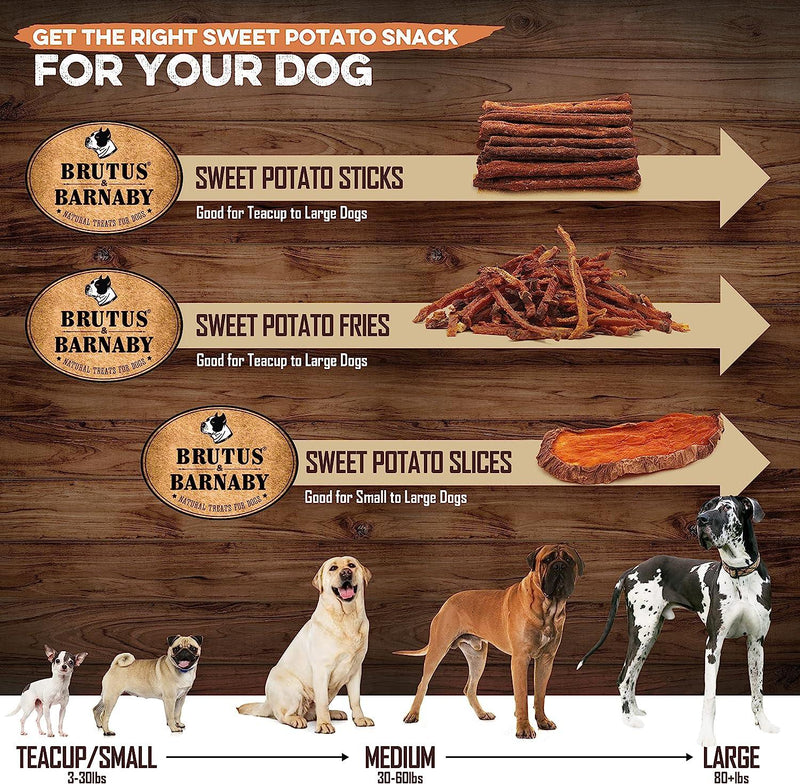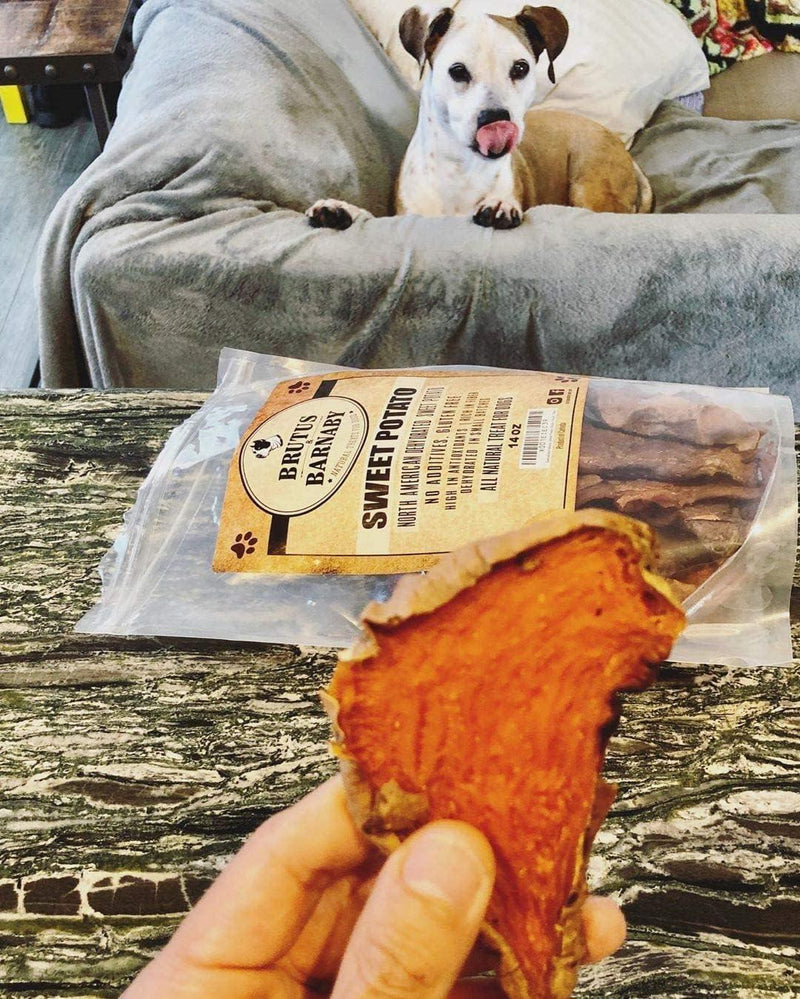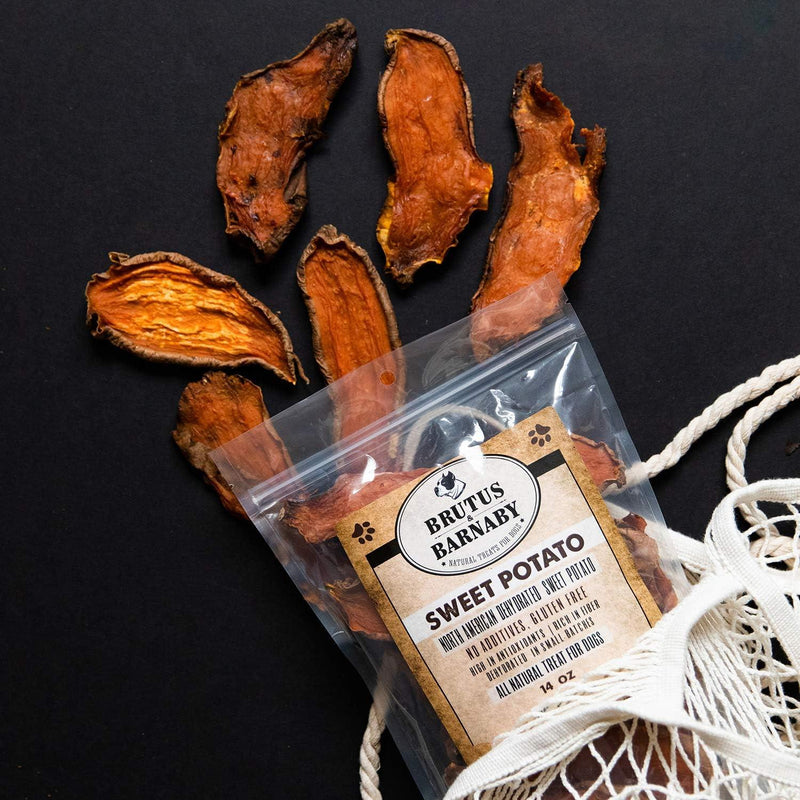 Sweet Potato Slices For Dogs
You save:

$-20.99 USD

(100%)
MONEY-BACK GUARANTEE
NATURAL HEALTH BENEFITS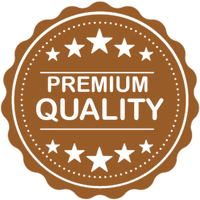 ONLY QUALITY INGREDIENTS
Product Description
Description

Ingredients

Feeding Instructions
Description
100% GUARANTEE - As with all Brutus & Barnaby's products, we back them with a money-back guarantee. No questions asked.
UNPROCESSED - These are just pure sweet potatoes that are dehydrated, so are all-natural with no preservatives.
GREAT FOR ANY AGE, SIZE, OR BREED - Easy to chew, these Sweet Potatoes are perfect for the teething puppy or the senior dog on a diet, and a tasty treat for any dog in between! Can easily be cut or torn into smaller strips or chunks.
NATURAL ANTIOXIDANTS - Dehydrated Sweet Potato preserves natural antioxidants, and is a fantastic source of vitamins and minerals to help complete your dog's nutrient needs without supplements. These are simply the best healthy snack or training reward!
THICK CUT - A hearty cut of sweet potato so you can occupy your dog's time! 
NO FAT, NO ADDED SUGAR - There is zero fat, no added sugar, and the natural potato skins are loaded with healthy fiber. This helps balance blood sugar levels which can be good for senior diabetic dogs. Give your dog this tasty treat guilt-free as often as you like!
GLUTEN FREE, GRAIN FREE - Easier to digest and can be great for dogs that may be allergic to other things. An excellent component to those whose dogs are on a raw food diet.
Ingredients
Just 100% North American dried sweet potato slices. Nothing else.
Instructions
Give one as a treat for your dog to enjoy. We recommend supervising when giving your dog this treat, and provide plenty of fresh water. Watch out for small pieces that could be a choking hazard for your dog. While all our products are carefully selected for the highest quality and safety, please consider your dog's health, age, diet, and chew strength before giving a new treat. Our treats & chews should never replace your dog's diet.
My dog's favorite
My dog absolutely goes crazy for the sweet potato pieces. When I just mention them she gets so excited. I love them because they have nothing artificial. Absolutely the best!
Good stuff!
We have our young Doberman on a limited diet & the sweet potato slices are her only treat. She loves them! If & when we find out the cause of her skin issues we will continue to treat her with these.
Dog loves them
My husky loves these. They have become a part of our daily routine. He expects one first thing in the morning. I don't feel too bad, because I know they're not unhealthy.
They Love Them!
Our rescue came to us at 4 months with such stomach distress, finding out through many tests that not only does he have small ulcers on his belly but he is allergic to protein, his GI Dr recommended to try these as a treat to chew on. Well let me tell you.. he Loves them!! And he holds them down. He goes nuts every time I say "lets go get a sweetie" (other than rice Chex and Mini marshmallows.) I am so thankful for Brutus and Barnaby for creating this treat! They are great quality.
We created a monster!
Our Golden loves these SO much that he asks for them non-stop! He will even ring his door bell then run to where they are stored to let us know he wants one! Great quality! He likes the sticks too, but really goes bonkers for the chips! He'll drop everything for a "chippie"! He has food allergies, so these are perfect!